By Amanda Tonoli  –  Staff reporter , Columbus Business First
Mar 9, 2023 Updated Mar 9, 2023, 3:01pm EST
An alliance of workforce development leaders will work to streamline support to better meet demand from the region's major employers.
A new partnership involving leaders from 18 counties aims to solve one of the most-pressing issues facing the Central Ohio economy: the region's dire shortage of workers.
The stakes are high.
The state's low unemployment rate and relatively weak level of labor force participation creates a workforce crunch that makes it difficult for employers to find employees.
Ohio had more than 405,000 job openings in December, according to the Bureau of Labor Statistics, and only 236,000 unemployed people.
In Columbus, there were 60,500 job postings in December, according to OhioMeansJobs. That's second only to December 2021's decade-long high of 71,099 postings.
Looking forward, the job openings are set to keep increasing. Most notably, California-based technology giant Intel Corp. plans to create 3,000 direct jobs and thousands more indirect positions as it builds and opens a $20 billion semiconductor manufacturing complex in Licking County.
At the same time, Honda Motor Co.'s new Fayette County battery plant will create more than 2,000 jobs.
And Amgen Inc. is set to add 400 jobs in New Albany at its new $365 million plant.
"Now we're creating jobs faster than we can find people to fill them," Ohio Lt. Gov. Jon Husted said during an economic forum hosted by our Dayton sister publication this year. "And that's both an opportunity and a challenge."
New workforce alliance
It's with that challenge in mind that leaders from four area workforce development organizations decided to join forces.
"When Intel was announced, we knew that they're not going to be able to pull all that workforce from any one county or just Licking County," said Lisa Patt-McDaniel, CEO of the Workforce Development Board of Central Ohio. "We knew we were going to have to work together to make sure we can help to provide talent."
The "we" in question includes the following partners and their respective areas:
Patt-McDaniel, whose territory includes Franklin County.
John Trott, whose territory includes Logan, Union, Marion, Morrow, Delaware, Knox, Licking, Madison and Fayette counties.
Rick Szabrak, whose territory includes Hocking, Vinton, Ross, Pickaway, and Fairfield counties.
Laurie Gribble-McKnight, whose territories include Athens, Perry, and Meigs counties.
That makes for 18 total counties connected via the new alliance.
Here's how the partnership works: Workforce leaders establish a point person based on a specific need for employers or employees to streamline connecting one with the other in the most meaningful way possible.
The partners are eliminating boundaries by making workforce connections based on best fit, rather than location.
"By banding together and looking across how we do this, we can find similarities and make it more seamless and easy for both the companies and also for the talent the people working for those companies," Patt-McDaniel said.
"It's not a competition," she said. "There's enough work for all of us to do."
While the leaders have long been aware of the region's workforce pressures, the idea to formalize the union came from a trip they took to Intel's semiconductor fabrication complex in Chandler, Arizona.
"We got to see first-hand what the impact is of a very large employer who's made a long-term commitment to a community," Trott said. "We thought, 'We need to rethink this.' We already knew and liked each other and had teamed up before. How can we do this in a more thoughtful way for this unique challenge?"
After brainstorming how best to fulfill the workforce needs of a mega employer such as Intel, the leaders decided an all-hands-on-deck approach was required.
"We knew this would have to be a regional approach, but a regional approach doesn't do it justice," Trott said. "You want it to be a regional approach that is very personal and focused on the businesses. You have to be easy to interact with."
The goal is to create a seamless process offering a no-wrong-door concept for employers and employees, strengthening the reciprocal talent pipeline — connecting employees to employers, as well as employers to employees.
Brookings weighs in
The new alliance is just getting going, but it's already earned national notice.
The region's collaborative effort to tackle the current shortage and anticipated need is novel, according to a group of Brookings Institution fellows who recently authored a report on the alliance's approach and potential replicability.
"That could become a proxy for other kinds of skills that are necessary for jobs like this," Lavea Brachman, Brookings Metro visiting fellow and report co-author, said in an interview.
The out-of-the-box thinking, especially involving a variety of sectors — education, government and various supporting organizations — sets Central Ohio apart. And it could provide a vital example as federal subsidies drive similar high-tech manufacturing investments elsewhere.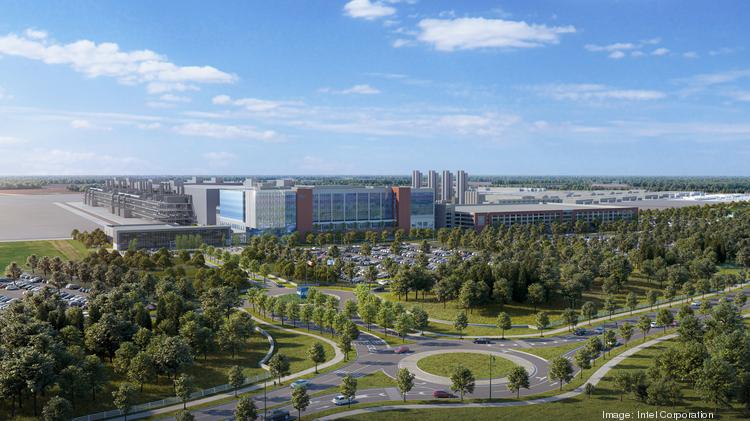 Mark Muro, a senior Brookings fellow and co-author of the report, said supplying the workforce for a large-scale manufacturing plant such as Intel's requires "transformation of existing systems."
"It's at the frontier in looking at how these large plants will get the opportunity to the worker," Muro said in an interview. "At this point, Intel in Ohio is at the forefront of attention and especially on the workforce side.
"Solutions that Ohio works out will be of great interest to workforce leaders and executives and intermediaries across the country."
Trust and understanding
The Brookings report called the coordination "critical, but hard to wrangle."
But the workforce development chiefs working together in the alliance say two key factors will drive their success.
"We have that trust and that understanding of what Franklin County brings, what Fairfield, Pickaway, Hocking, Ross, Vinton (bring). … We have to know what we all bring to to the table," Patt-McDaniel said. "We have to know that about each other to make sure we're moving either employer or future employees to the help they need."
Workforce boards don't have a stake in the game. Their whole goal is to connect employers and employees for the good of everyone.
"We are the neutral player in the middle," Patt-McDaniel said. "We don't have anything to gain or lose. We are here to give best information to employers: what the labor market is, where the talent is (and) whether the jobs are actually competitive in the marketplace.
"And for the people coming to us – the talent – we are about understanding what their skills are, where they want to go (and) how we can help them."
Gribble-McKnight said there's never going to be a starting or ending point in workforce development. The needs are too great. But a concentrated effort can be made on matching workers and employers with the best fits possible, with a goal of creating long-term careers benefiting both parties.
"If we're doing our job right, it's a perfect marriage between participant and employer," she said.